Amazon Prime's Modern Love Chennai Renewed for Season 2
Current Show Status
Modern Love Chennai Season 2 —
officially renewed
Subscribe for show updates
Receive automatic notifications when Modern Love Chennai Season 2 release date is announced.
13 fans have subscribed
Love, an emotion that defies boundaries and encompasses myriad forms, remains an enigma that is simultaneously elusive and familiar. It is a force that binds us all, transcending language, culture, and geography. In the enchanting world of Modern Love Chennai, this enigmatic concept takes center stage, weaving together a tapestry of love stories that are as diverse as they are captivating.
This extraordinary series offers an eclectic bouquet of love tales, each one presenting a unique blend of humor, quirkiness, depth, and puzzlement. With every episode, viewers are taken on a heartfelt journey, encountering narratives that evoke laughter, tug at heartstrings, and provoke introspection. The range of emotions explored in Modern Love Chennai is a testament to the multifaceted nature of love itself.
Yet, this series is more than just a collection of captivating stories. It serves as a love letter to the bustling city of Chennai, an integral part of its essence. As the narratives unfold, the audience is granted a precious glimpse into the soul of this vibrant metropolis, its idiosyncrasies, and its diverse inhabitants. Chennai becomes more than just a backdrop; it becomes a character in its own right, with its unique terrains and its people who contribute to the tapestry of love that unfolds before our eyes.
The inspiration behind Modern Love Chennai lies in the profound articles published in the renowned New York Times. These real-life accounts of love, taken from the pages of one of the world's most respected newspapers, serve as the foundation for this series. With great care and craftsmanship, these articles have been adapted to suit the Tamil landscape, ensuring that the essence of each story is preserved while resonating with the local audience. It is a testament to the universal nature of love that transcends geographical boundaries and finds its expression in different cultures.
(Source:
thefutoncritic.com
)
Subscribe for show updates
Receive automatic notifications when Modern Love Chennai Season 2 release date is announced.
13 fans have subscribed
All Amazon Prime shows
245
Amazon Prime set Mud, Sweat and Tears: Premiership Rugby Season 1 premiere for October 12, 2023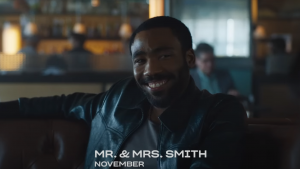 Amazon Prime Sets Season 1 Premiere of Mr. and Mrs. Smith for Early 2024
-->