They Cloned Tyrone on Netflix Will Be Released on July 21, 2023
Current Movie Status
The release date for They Cloned Tyrone Movie —
July 21, 2023
Countdown to premiere date (EST)
days

48

hours

10

mins

55

secs

12
Subscribe for movie updates
Receive an automatic reminder one day before 0 premieres.
9 fans have subscribed
Prepare for a mind-bending adventure with They Cloned Tyrone, an upcoming American science fiction comedy mystery film. Making his feature film directorial debut, Juel Taylor takes the helm, co-writing the screenplay alongside Tony Rettenmaier. The film boasts a stellar cast including John Boyega, Teyonah Parris, Kiefer Sutherland, and Jamie Foxx, who not only stars but also serves as a producer. Together, this unlikely trio embarks on a thrilling journey to uncover a government conspiracy that will leave audiences on the edge of their seats.
They Cloned Tyrone is set to captivate audiences with its intriguing premise and clever blend of genres. The film will make its highly anticipated world premiere at the American Black Film Festival on June 14, 2023, showcasing its unique vision and storytelling. Following its premiere, audiences can catch this thrilling ride as it arrives on Netflix on July 21, 2023. Get ready to unravel the secrets and uncover the truth as They Cloned Tyrone takes you on an unforgettable cinematic experience.
Subscribe for movie updates
Receive an automatic reminder one day before 0 premieres.
9 fans have subscribed
Netflix set BASTARD‼ Heavy Metal, Dark Fantasy Season 2 premiere for July 31, 2023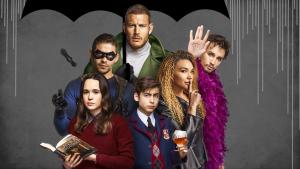 Netflix officially renewed The Umbrella Academy for Season 4 to premiere in 2024
-->